As we all know now, the future of live events is going to be very different (at least in 2020 and 2021). Here at FanMaker we've been working hard to give our clients the tools to adapt. A big part of what teams do is award loyalty points for game attendance, but what if limited or no fans are allowed to attend? We don't want those loyal season ticket members, or students to miss out. We are introducing support for watching events!
Now all events can reward points for attendance, points for watching or a combination of both. So whatever the attendance rules we've got you covered.
First you will notice we now promote the TV and Radio stations thr game will air on as part of each event. Additionally we support live video and audio streams, you will be able to stream directly inside the app, or link out to external apps/websites. This includes support for paid streaming services, or special events held on platforms like Zoom.
Once the game starts the fan can tap the "I'm watching" button to earn initial watch points. Then throughout the game you can award more points for continuing to watch. You control the schedule and points for each event in the admin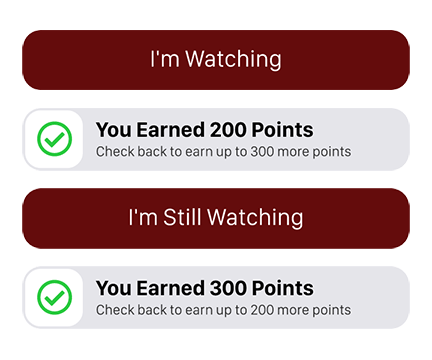 You can also setup a special promo code to be shared during the broadcast as many of our clients already do to engage with season ticket holders during away games. Now it is easy to enter the promo code right on the happening now card.
Now that fans are checking in to games on TV you can use our powerful stories system to provide exclusive content like photos, quotes, stats, video, trivia, polls, pick'em games, sponsor activations, ads, and even LIVE video! The possibilities are endless, in fact you can charge for access to certain stories like behind the scenes live video feeds.
And of course watch rewarding is easy to setup via the FanMaker Admin
Over the coming weeks we will continue to share details on the roadmap features we announced in June. Everyting we've mentioned above and more will launch as part of app version 9.6 this August. Please contact us for a one-on-one planning session to make the most of the updates.