The National Association of Collegiate Marketing Administrators (NACMA) recognized The University of Texas- Rio Grande Valley as an honorable mention for the Marketing Team of the Year. Rio Grande Valley believes that their rewards system, V-Fan Rewards, is a large part of the athletic department's marketing success.
"We decided to include V-Fan Rewards in our application because we felt like it was one of our strongest digital media components. It drove student engagement offline and online." - Kara Lara, Athletic Marketing and Promotions Coordinator at UTRGV
Rio Grande Valley is a new institution created by the Texas State Legislature in 2013 by combining the University of Texas at Brownsville and the University of Texas- Pan American. So Rio Grande Valley needed to figure out a way to get people excited about the new athletic program.
It can be difficult to fill seats at athletic events as a new institution, but Rio Grande Valley focuses on engaging the fans that are at the games. One way they try to engage those fans is through the rewards program, V-Fan Rewards.
V-Fan Rewards gives points to fans that attend Rio Grande Valley athletic events. Students and other fans can earn points by checking into the game with their mobile device via the V-Fan Rewards app and then use those points to redeem prizes from the V-Fan Rewards Prize Store.
"V-Fan Rewards has incentivized our fans to attend games, which has translated into an overall increase in attendance and ticket revenue. Our overall ticket revenue increased by 29.58% in FY 16, while our overall attendance increased by 25.3% in FY 16 (compared to FY 15)." - Kara Lara, Athletic Marketing and Promotions Coordinator at UTRGV
Beyond incentivizing attendance, V-Fan Rewards is also a go-to place for fans to learn about upcoming athletic events. V-Fan Rewards is a great asset for fans as it lists all upcoming events chronologically, provides details about events and highlights special promotions. In fact, in a survey conducted by V-Fan Rewards, 26% of respondents said that the app is the primary way they learn about upcoming sporting events.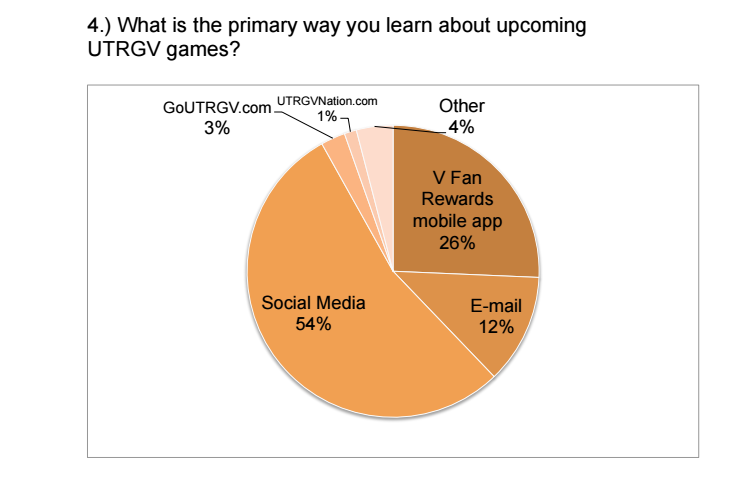 V-Fan Rewards also gives points to members that follow their social media accounts and provides direct access to the official Rio Grande Valley Athletics website. Integrating their digital platforms onto V-Fan Rewards has helped Rio Grande Valley increase traffic to their athletic program's social media accounts and website.
"V-Fan rewards not only contributed to our digital media but [also] to our fan experience, game day atmosphere, and attendance." - Kara Lara, Athletic Marketing and Promotions Coordinator at UTRGV
Overall, V-Fan Rewards is a valuable asset to Rio Grande Valley's brand. V-Fan Rewards increases fan attendance at athletic events while also creating loyal fans for a new athletics program.
Mississippi State
Mississippi State, another FanMaker client, was the winner of the 2016 Marketing Team of the Year. Mississippi State's rewards program, Hail State Rewards, was also an integral part of their NACMA win. Read more about Hail State Rewards and how they helped increase attendance in Mississippi State's Olympic sports programs here.