In 2013, The Ole Miss Athletics department  launched their loyalty program, Rebel Rewards. For the last 8 years, their program has had no automation for communication, wasn't always reliable to award points properly, and became time consuming for their athletics marketing department.
FanMaker solves these problems by providing the tools for reliable automation of all point earning opportunities and unlimited communication opportunities, including email and push notifications.
"We were looking for someone who had an existing loyalty program and specialized in this field. FanMaker caught our eye immediately, with a reliable infrastructure that is able to grab the casual fans and turn them into hardcore fans. We believe this platform has the ability to keep fans engaged while providing a competitive atmosphere to encourage attendance." -Paris Buchanan, Assistant Athletics Director - Marketing and Fan Engagement, Ole Miss Athletics.
Engaging with fans has never been easier for Rebel Rewards. The communication tools FanMaker provides are an integral part of getting fans to keep coming back.
"FanMaker's communication tools have allowed us to reach Rebel Rewards members in an efficient and timely manner. Push notifications and stories have been a great way to notify fans of upcoming promotions and events. Emails were great in the transition to FanMaker's platform. It allowed us to reach out to previous users and increase downloads of the new app." -Paris Buchanan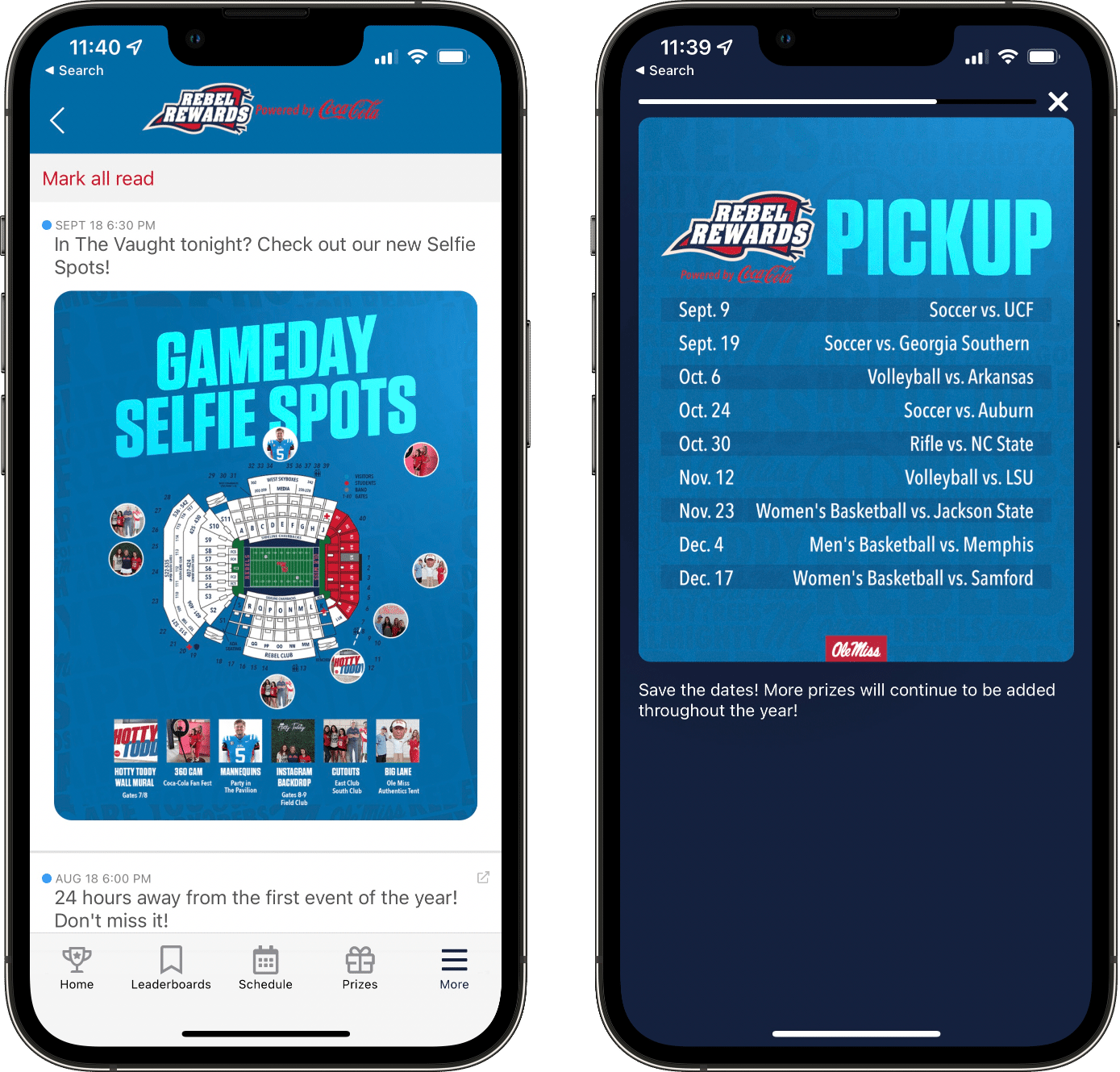 A FanMaker loyalty program leverages the ability to award points to fans for attending events through a variety of ways. First is a geofence utilizing the GPS within a fan's phone. Second is through a ticketing system integration. Rebel Rewards utilizes a Paciolan ticket integration that awards points to fans through their ticket scans at events. Last is the use of beacons, Rebel Rewards utilizes beacons at the entry and exit points of all of their venues. The beacons then connect to fans' phones through a bluetooth connection, when the fan walks by without even taking their phone out of their pocket.
"The beacons are extremely reliable and the range on each is truly remarkable.  It doesn't take many to be able to equip a vast space both indoors and outdoors. For us, the use of our "remote" beacons have given us the ability to have sporadic pop up events that take place without much notice." -Paris Buchanan
Rebel Rewards uses these points as an incentive to increase the amount of events fans attend each year. Fans can then utilize those points to redeem for great prizes, experiences, and more!
Some of these exciting prizes include lunch with the Ole Miss Athletics Director, Keith Carter, facility tours, apparel and so much more!The incentive of a point based system isn't new to Rebel Rewards, but the reliability that fans receive points when they are supposed to is.
"The early feedback we have received from fans and students is that the program and platform is reliable.  When the app is programmed to give you points, it gives the points. While it seems simple, reliability is something that is big for us." -Paris Buchanan
This reliability has already made an impact on the attendance totals that the Ole Miss Athletics department is seeing across all of their fall sports.
"Our Olympic sports have really benefited from the FanMaker platform, and has paid off early with increased attendance. We have been able to attract a far larger student base at our Olympic sports, and have also seen better participation early on inside our football stadium during the 4th quarter. The bonus point feature has played a large part in that." - Paris Buchanan
FanMaker also provides other incentives including punch cards, leaderboards, and stories. Punch Cards track a fan's attendance for a set period of time and total events. When the member attends the number of events set for completion, they win points or an exclusive prize. Leaderboards provide a competitive atmosphere for fans to become the biggest fan there is and work their way to the top by earning the most points. Stories provide another way to communicate to fans and increase in-app engagement through polls and trivia, answering polls and trivia awards points to the fans.
"The feedback has been really encouraging. The platform has a vast amount of possibilities, and our staff is continuing to be creative in providing unique offerings to our fans. For us, continuing to find new and innovative ways to use the punch card feature has certainly been exciting. For the fans, the sweepstakes have definitely been a hit." -Paris Buchanan