When sending email to promote your loyalty/rewards program there are some tried and true ways to increase its effectiveness. Alabama's Crimson Tide Rewards does a fantastic job with their monthly update emails, so let's go through the anatomy of a great promotional email:
1. Give Away a Brand New Car
Just kidding! You don't need to give away a brand new Toyota Rav4 like Alabama, but you should try filling the marquee position of your email with a  prize. Fans want to know what is in it for them, so featuring a once-in-a-lifetime experience or one of your awesome prizes is a great way to grab their attention. Optionally, if you have recently handed out a large prize like Alabama did, showing the winner accepting or enjoying the prize will make rewards seem achievable for the average fan.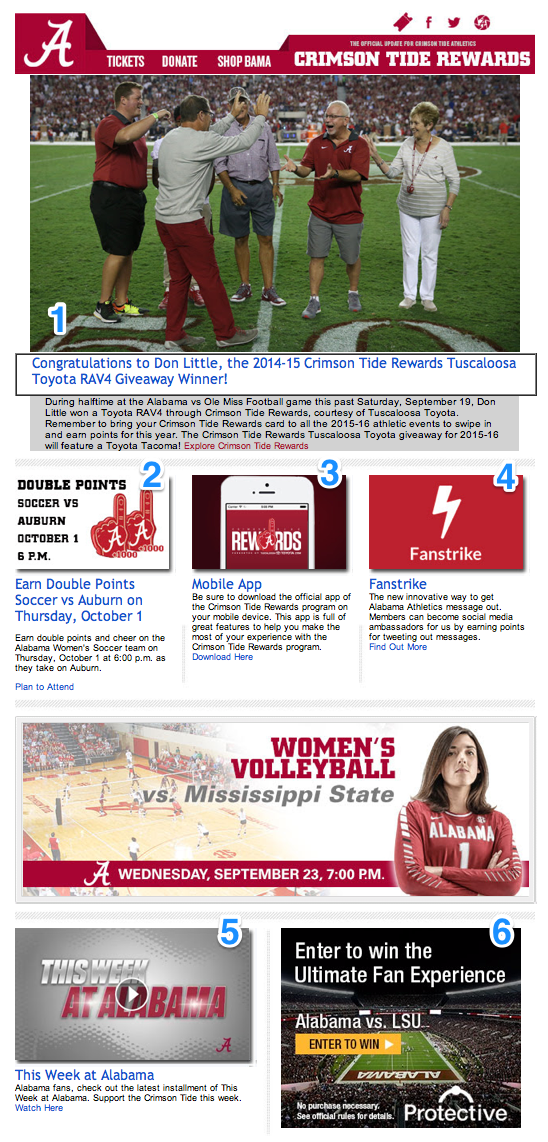 2. Promote Bonus Events
It's been proven that adding bonus points to events boosts attendance (in a big way). So when you have those bonus games that you want to drive attendance to, make sure to promote them prominently in your emails. You can also use this space to promote early arrival and stay late bonuses for all your events. Fans will appreciate the heads up on large point opportunities.
It's best to get all your members to install your custom mobile apps. Once installed you can collect amazing details about fans on game day as well as message them in a timely and targeted fashion. Make sure you are including mobile app download links in every email.
4. Other Ways to Earn Points
There are many ways to earn points, use a prominent position in your email to advertise some of the options. You could talk about points per dollar on ticket, concession, and merchandise purchases, or maybe the hashtag you want them to use on instagram, or like Alabama the new Fanstrike feature. Surface all those great point earning opportunities for your fans.
5. Team News and Highlights
Rewards emails do not need to only be about your loyalty/rewards program, after all these are some of your best fans! Include news highlights, video, and other content from your main website. If you have a regular video show like Alabama – this is another great place to promote it.
6. Include Sponsors
Sponsors love loyalty/rewards programs, and many of our clients have dozens involved. Monthly emails provide great sellable sponsor inventory. It can be as simple as an ad, or to promote an integrated sponsorship using check ins, beacons, promo codes, or social media.